Sounds incredible? It is. It's also complicated. If you can spare 20 minutes of your day we will try and explain and qualify some of our statements above. If you.
live in Ripley
have children at school in Surrey
have children at a Church School anywhere in the UK
Then you might want to read on, as this directly affects you. It's not a pretty story.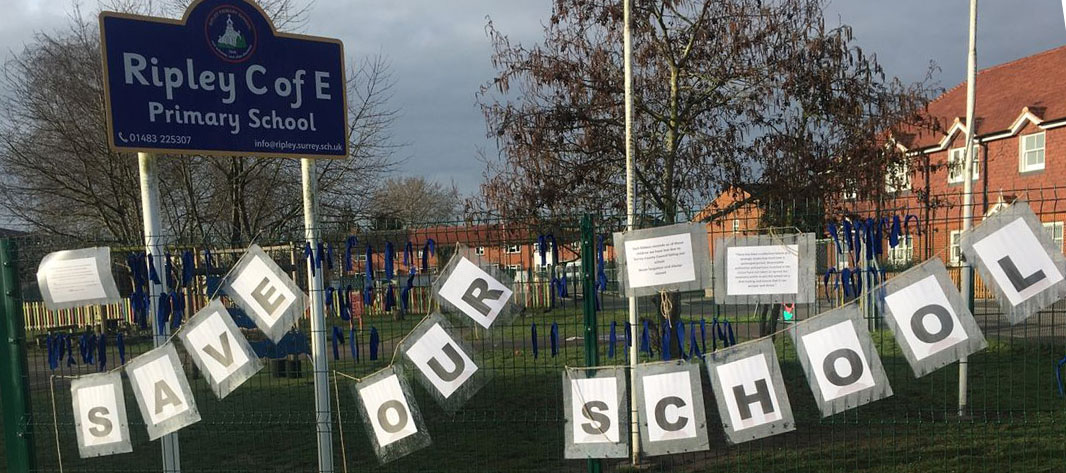 We were told to take those flags down by an anonymous council worker as it would scare the children. Not as much as taking their school away I'd imagine.
Surrey County Council
The inspector from the Office for Standards in Education (Ofsted) arrived in May 2017 to find a new interim Head and Board of Governors, both two months in. By then the school had been without a permanent head for 2½ years. Ofsted criticised Surrey County Council for providing only sticking plaster solutions, never a long term vision for the school.
There is very limited evidence of any positive impact made by the local authority on securing the necessary improvement at the school.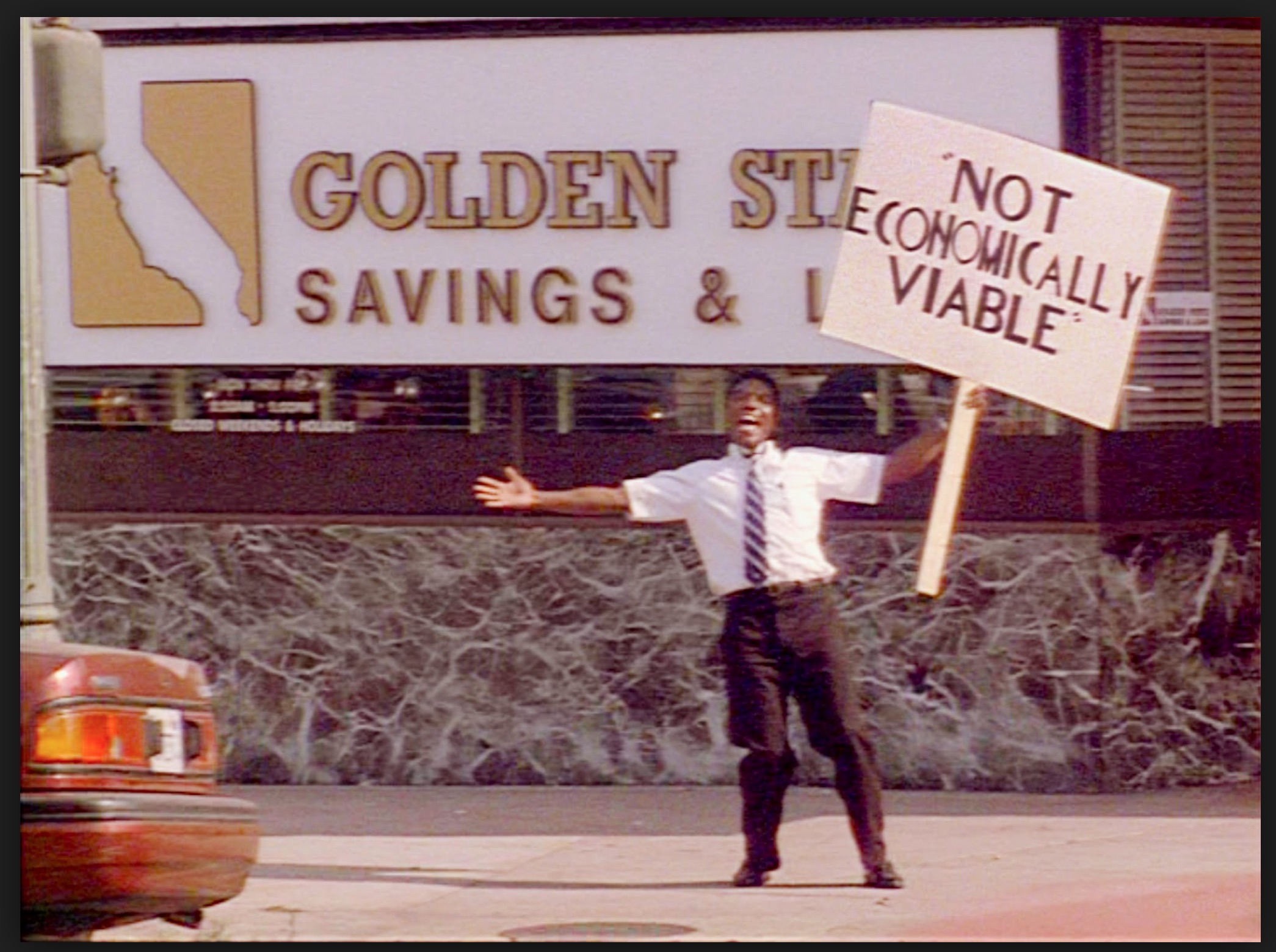 Schools are funded on the number of pupils, with up to 30 pupils allowed per class. Less than 15 pupils and classes can be merged. In 2016 Ripley school had an average of 21 children per class, with a 2017 forecast of less for the surrounding area.
The Head Teacher suddenly resigned in Dec 2014. We don't know why, but money was paid out and we presume Surrey County Council messed up somehow. Funding was secured for an interim Head and interim Chair of the Board of Governors.
But after four terms with no permanent solution, parents were looking elsewhere. The school was in debt, in trouble and losing money.
So closing it made economic sense?
Forecast numbers were wrong by up to 20%, but the trend was fairly accurate and slowly rising from a low in 2014. And the forecast is for Send &amp Ripley combined. It also doesn't appear to include projected development in the area; we'll come back to this at the end.
Here are the actual numbers for Ripley alone.
Numbers dropped marginally after an Ofsted report in 2013 determined it required improvement, and the head resigned a few months later. But in September 2016, 26 children started in reception. A roll of 145 was broadly accepted as a long-term average, making Ripley one of 4000 schools in England with less than 150 students
Ripley is classed as a Rural School, with the nearest alternative 2.1 miles away. It was absolutely necessary, popular and the demand is there.
But it needed a strategic vision for the school. And it needed permanent head. What it got instead was meetings. Lots of meetings.
Bureaucracy
A consultancy firm always features in any tale of Government ineptitude, and in this tale it's Babcock 4S. They provide education support services to Surrey County Council after SCC outsourced this some 15 years ago.
Quite where SCC ends and Babcock begins is unclear, and where I've referred to SCC below you can take that to mean SCC and/or Babcock. We have their redacted meeting minutes: I'll give you the highlights.
They begin in May 2015, when the Board of Governors expresses disappointment at the lack of progress in hiring a head and that they were pressurising SCC for a decision ... on the long term future ... (but) ... there were no outcomes
They end 18 months later with the Board of Governors threatening to resign, citing (of course) no long-term future plan for the school from the Council. Shortly afterwards the Council decide to issue the Board a formal warning for lack of leadership (guess who wasn't invited to that one). Fingers of blame point everywhere. The Board jumps before they are pushed and resign en masse.
SCC will tell you the Board needed to hire a head. The Chair of the Board will tell you that SCC needed to provide direction before it could do so. But the Chair of the Board was an SCC appointee. These two bickered, and the school withered. They have never advertised for a head teacher.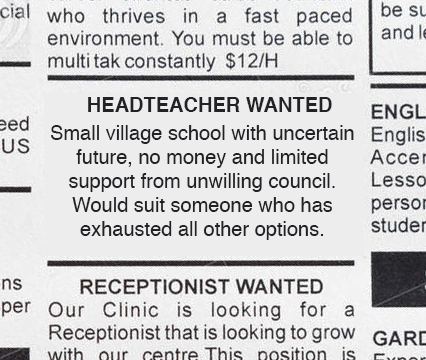 We are told a few other things in the minutes.
First, the school is doing OK. Academic performance and teaching performance are both good, and for 2016 a record number of pupils chose Ripley as their first choice.
Second, the school is broke. The buildings are in a bad state of repair. 96% of budget goes on staffing. There's again talk of a £50,000 deficit for 2016, and there is not enough money ... to provide for basic curriculum needs.
Students are shivering around a candle and scratching their homework in the mud. It's Russian-winter bleak, and these figures are repeated every few months in case anyone forgets. It's established any Academy Trust taking on this lemon is going to want funding guaranteed by the Council.
Third, the school both is and isn't needed. Closure is not an option, although it is highly likely the school would ultimately close except that it was necessary to remain open due to numbers and that it's needed now ... and in the mid-term. As stable long-term plans go, it's lacking something.
So what finished the school was lack of money? Not exactly.
Finances
First, although the buildings were in need of repair, there was £100,000 from central government already allocated for this by April 2016 Despite this, the state of the buildings continued to be raised as an issue . The work was finally done in Summer 2017, after most of the children had already left.
Concerns around some of the other buildings have been continually cited as an issue, despite the builders offering to repair this for free under warranty. So far no-one has taken this offer up.
Second, the DfE list staff costs as 85% in 2015, then 86% in 2016. This is proportionally less than neighbouring Send school, and about average for single-form primary schools in Surrey.
When queried, SCC's Schools Commissioning Officer explained that the LA considers staff costs as a percentage of in-year funding, whereas the DfE usually quote staff costs as a percentage of total expenditure. Fine, lets plot that instead.
Now we see where this 96% figure may have come from (it was 95.07% for YE2016). But it's based purely on Grant Funding, the funds allocated by SCC to the school. Ripley School is also host to Ripley Pre-School and Toad Hall nursery. Lets add the income generated from that to the mix.
Ripley School has an unusually high level of self-generated income, which SCC ignored because forecast income is unpredictable. But 96% was first quoted in April 2016, halfway through the academic year. This figure included forecast staff salaries for the rest of the year but excluded income that had already been earned from tenants.
This figure was selective and inaccurate. And prior to 2016, Ripley's staffing costs were better than neighbouring Send school by any metric you care to choose. This is not to bury Send next to Ripley; it's to highlight the sheer uselessness of this statistic.
And what about that £50,000 deficit? See if you can spot where the problem begins.
SCC focused support began 3 months into the Academic Year ending 2015. The finances got worse, not better, during this period.
Intention
By now, the Council has spent two years fighting with the Chair of the Board of Governors - who they appointed, don't forget. They've spent all the interim funds allocated to get the school back on its feet, left the finances worse than they started, and achieved, essentially, nothing.
There is no doubt their preferred option was to close the school and relocate its pupils to neighbouring Send School, which would certainly save them a lot of money.
No doubt, you ask? In May 2017, parents received the letter, saying the school would be merging classes, but that you may want to take advice regarding (nearby) school places.
Who added that line to an otherwise unremarkable letter is unknown, but it was either the Council, the interim Head (on loan from Send) or the interim head of the Board of Governors (on loan from Send). Personal meetings with the Head left no doubt that the school would close. For most parents, this was the first they were aware of this possibility.
But this wasn't the first letter discussing closure. The Ofsted officers notes refer to a letter from SCC to Maria Dawes, the Head of School Effectiveness at Babcock. The letter, written a full year earlier in May 2016, expressed disagreement with Babcock's recommendation that the school was closed. This was around the same time as the incorrect statistics on staff costs and deficits were being raised in minutes.
We have FOI'd that letter and will publish what we get. It may not be much: take a look at the bottom of the Ofsted notes referenced above. The quote car crash waiting to happen is taken from the Babcock minutes of 17 Sep 2015. But it's not there. Presumably this embarrassing and wholly accurate quote was redacted as it would prejudice the effective conduct of public affairs.
Maria Dawes left Babcock shortly afterwards to become Deputy Regional Schools Commissioner for South-East England. Another Babcock consultant has since become Deputy Director of Education for Guildford Diocese.
Why would Babcock go to all this effort? We don't know, exactly. But we would imagine if you are tasked with getting better results for less money, shutting down uneconomic schools is one way to do it. Which ones would you shut? Zoom in, it helps.
Chaos
A bunfight for places in nearby schools ensued. Send had 10 places available in reception, and there were 26 children in that year in Ripley. With the choice between jumping early and getting a place, jumping later and having to go further afield, or sticking it out in the face of obvious mismanagement and an uncertain future, many jumped. Student numbers roughly halved over the next two months, and soon every neighbouring school was very near capacity.
In June 2017 the Ofsted report came out. The school was inadequate due to poor management, and would have to find an Academy Sponsor or close. Many parents welcomed this as an opportunity to remove Surrey County Council from the picture.
Enter the Diocesan Board of Education
The Church of England
Present at the vast majority of the Council meetings was a representative of the Diocesan Board of Education (DBE). Ripley Primary is a voluntary controlled school, meaning a state funded school run by the local authority but in which the Church has some control, usually due to them owning the land.
So when talk begin seriously of an Academy Trust takeover, they introduced the Good Shepherd Trust (GST) to the picture. This is the Church Of England's Multi-Academy Trust (MAT) for Guildford, and the most likely candidate to take over the school.
They weren't in the picture for long. Discussions began in October 2016 but by January 2017 they had ruled themselves out as they could not take on any more schools without agreement from the Regional Schools Commissioner (RSC).
It transpired in a later conversation with the Bishop of Dorking that the RSC had clipped their wings. The Good Shepherd Trust were considered to be overstretched at the time and would not be taking on Ripley School.
This would come as a surprise to anyone at the village meeting of July 2017, when the then Chief Executive of the Good Shepherd Trust spoke to those present. The GST were doing (present tense) their due diligence on taking over the school.
It's even more surprising when you learn that the RSC, who was tasked with finding a MAT to take over the school, had only approached one MAT: the Good Shepherd Trust.
Despite not being approached, a local MAT did express interest. The South Farnham Educational Trust (SFET) runs the nearby Raleigh School, widely regarded as the best state school in the area, along with two others all rated outstanding by Ofsted.
Even after haemorrhaging students they felt Ripley School could still be saved in some form. So SFET approached the DBE for an initial meeting.
They were rebuffed - we were given the quote wouldn't be helpful. Remember that by now the DBE knew the school was to close; this was quite literally telling SFET they were a fate worse than death.
Why?
Because SFET are a secular Academy Trust. The Church of England would rather a school close than become secular.
Mind, that's not how they phrased it.
The document guiding this process is the Memorandum of Understanding (MOU) between the CofE and the DfE.
Section One states that Church Schools joining an Academy must see no dilution of the level of Church governance prior to conversion, at member level and at board level.
This is clarified in a quote from the RSC in the Statutory Proposal, one of the final legislative rubber stamps applied to inform us that everyone has done their jobs properly.
In the case of Ripley CofE this means any non-Church MAT wishing to sponsor Ripley would need at least 25 per cent of the Trustees to be Church appointed. The RSC can only consider possible sponsorship arrangements for Ripley if they meet the terms of the MOU.
I now need to describe the structure of a Multi Academy Trust set up under the CofE's Model Memorandum of Association.
For clarity we need to distinguish between trustees, also called members, who have voting rights but do not direct; directors, who have been appointed by the members to run the trust; and a local governing body who run an individual Academy.
There are typically four members, one of which is the DBE. They are appointed at incorporation. More may be appointed, but the proportion of Church appointees must not exceed 25%.
The DBE can appoint directors, but must not exceed 25% of the total. The remainder are appointed by the members as a whole.
Any CofE Academy in the MAT must have a governing body with exactly 25% of it's members appointed by the DBE
The phrase must not exceed 25% does not mean the same as at least 25%. So the RSC was wrong in their email. This matters, as the Church has form on avoiding this point. We can even quote an email received from Alex Tear:
... a minimum of 25% of Members of a sponsoring Trust to be appointed by the Diocese, who in turn would expect to appoint up to 25% of the Directors of Trust
Maximum of 25%, not minimum. SFET currently has eight directors, with one Reverend constituting 12.5% of its board. But as the DBE itself is not a member, it does not adhere to the model memorandum.
However.
Section One of the Memorandum relates to a Church school that voluntarily wants to join a mixed MAT. Ripley was required to by the Secretary Of State, so Section Five is the one that applies. I'll summarise:
The RSC must contact the DBE at the earliest opportunity to discuss who is to sponsor the school. It's agreed that a diocesan ... MAT will be the outcome in the vast majority of cases. Neighbouring dioceses should be considered.
Where that's not possible, the RSC may look to an existing MAT that does not have appropriate Church governance, while ensuring the arrangement will safeguard the religious character of the school, as assessed by the DBE.
That's what's supposed to have happened. Let's look at what did happen.
The RSC completely failed in their duty to identify and discuss any MAT that could sponsor the School.
The Diocese flatly refused to consider a MAT without appropriate governance under any circumstances.
The role of the RSC is to match the school with a suitable sponsor. Yet it approached only a single MAT they had already ruled was unsuitable. They approached no neighbouring Diocesan MATs and no other CofE MATs. We called several to confirm this; one said they would have been interested if they had been approached early enough.
They had to get involved at the earliest opportunity. They had known since at least June 2016, when - shortly after Babcock recommended closure - Maria Dawes left Babcock to become deputy RSC.
They also had the right, and obligation, to consider MATs that did not have appropriate Church governance, provided they would, in the opinion of the DBE, safeguard the religious character of the school.
They did not. In the opinion of the DBE, no such thing is possible.
Alex Tear was interviewed by BBC Surrey on 25th May 2018. After stating the main reason the school was closing was low numbers, a point he would not have been able to make a year earlier, he goes on to discuss the secular nature of SFET.
... actually the diocese does allow its Church Schools to join Academy Trusts with Community Schools in it. It was just that with this particular trust, we didn't have any confidence that they knew or understood how to develop the Christian Ethos and character of the school.
The DBE had considered SFETs proposed legal agreement to safeguard the schools character, and rejected it. Why?
There's a set of documents called the Model Legal Documents, which is what's used when a Church School becomes an academy. That's the national expectation. Most, if not all Church schools use that when they convert to Academy status.
and in particular
It was mainly the fact that we expect to see Church Governors at all levels within the trust, and that was something that SFET was not able to give us assurances on.
This point was repeated by the DBE in the Statutory Proposal
(criteria include) ... the ability to safeguard the religious character of the school, with appropriate church representation on the board of the MAT and the local governing body of the school.
The DBE want to be a member of the MAT, and they want to assign 25% of the Directors. Such a MAT would have appropriate Church governance.
But section 5c is describing the very situation where the only available MAT does not have this governance. In this case the memorandum requires only protections in the articles ... (an agreement) protecting the Church school's character ... (and) ... clarifying the role ... assigned to the DBE through the Members' Agreement and the MAT's governance structures.
It does not identify a change in the board as a requirement, and it does not require that a MAT convert to one that has appropriate Church governance.
This is critical. Go read it yourself it's at the bottom of page 8.
I'm going to give Alex Tear one point in all of this. He was the only person responsible for this mess who actually turned up to the Parish Council emergency meeting on 13 June 2018. He took a well deserved beating too. We asked him why, if Section 5 was applicable, did he still insist on board level control of the trust?
The gist was this. If a MAT without Church control took over, it could promise to safeguard the religious status. It could even sign a legal agreement to this effect. But, without Church control, it would be possible for such a MAT (perhaps under new governance, in 100 years time) to reverse that agreement.
Consequently no secular MAT will ever be able to safeguard the religious character of the school. It is simply inconceivable.
This argument is clearly against the spirit of the Memorandum. It needs to be challenged. I suspect it's invalid too: while the School is sited on Church land, they have enough control. While you're our tenants, you will abide by the agreement to safeguard the religious character of the school
Alex Tear also confirmed that this was his determination and applied to Guildford Diocese. It may not apply to others. But under his leadership and policy, Section 5c of the memorandum may as well not exist, as it will never be applied.
Thought For The Day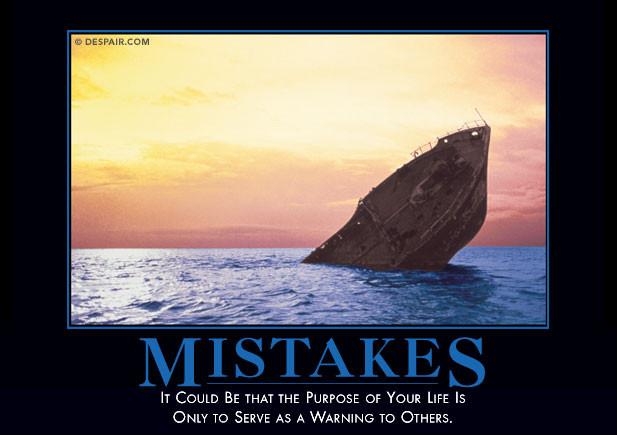 It's fair to say that Surrey County Council are the reason we are where we are now, and The Church of England is the reason we're not going anywhere else.
But it's also undeniable that the only thing worse than being a school under Academy Order is being a Church school under Academy Order. The CofE has the final say on any MAT taking over their schools, which is the final hurdle that Ripley School fell at.
The Church's own report from March 2018 details many reasons why a hard edged approach ... is required. Occasionally the only way forward in the interests of children will be for a small school to close. This is the Churches decision to make, and make it they do. In the interests of children, of course.
Perhaps that's too harsh. Small schools are more likely to close. The overwhelming majority of small schools are CofE. Therefore, most school closures will be small CofE schools. That's maths.
But some of those schools will close even when a MAT is prepared to take them on, because the MAT is secular. That's Church policy.
Here's Alex Tear again, writing in the Church Times in June 2016.
If the Church fails to resource its boards of education, it may have to start closing the small church schools at the heart of some communities, or it will start to lose its schools to other, secular, academy sponsors, which are better resourced to tackle under-performance.
Close Church schools or watch them become secular. This was written shortly after the closure of Stansted CofE Primary in Rochester, Kent. A troubled school, it too considered joining a Multi-Academy trust and was blocked by the local DBE. The director of Rochester DBE at the time was Alex Tear.
This is a control issue. Of 4 million state school pupils in England, 14% are in CofE schools. In Surrey, it's 18%. In many areas you have literally no choice but to send your children to a Church school. All schools around Ripley are CofE: although the local church has lost half it's parishioners as a result of this debacle (despite the local Vicar being as outraged as anyone), the Church has lost no pupils. They have almost all relocated to other Church schools in the area. We cannot even vote with our feet.
Contrast this with the 7% of 16- to 29-year-olds identifying as Anglican, and it would appear the CofE is over-represented in education by a factor of 2:1.
No doubt this is a position the Church is keen to maintain. But it will come at a cost. With limited Diocesan MATs and a compliant, complacent RSC, any struggling Church School is at significant risk of closure.
The Future
This situation is still unfolding. We have a few ideas lined up which we haven't documented here. But it is certain many children have left the School for good. Those remaining are expecting the Council to place their children with nearby schools.
So we called all of the Schools directly to ask how many spaces they have available (using SCC School Admissions' figures only where necessary).
| Driving | Walking | School | Recp | Yr 1 | Yr 2 | Yr 3 | Yr 4 | Yr 5 | Yr 6 |
| --- | --- | --- | --- | --- | --- | --- | --- | --- | --- |
| 2.1 miles | 42 minutes | Send CofE | 0 | 13 | 1 | 1 | 14 | 1 | 1 |
| 2.4 miles | 46 minutes | Pyrford CofE | 0 | 0 | 0 | 0 | 0 | 0 | 2 |
| 3.2 miles | 1 hour | The Marist | 0 | 2 | 0 | 0 | 0 | 0 | 0 |
| 3.5 miles | 1 hr 27 mins | St Mary's CofE | 0 | 0 | few | 0 | 0 | few | few |
| 3.7 miles | 1 hr 11 mins | West Byfleet | 0 | 0 | 0 | 0 | 4 | 0 | 0 |
| 3.7 miles | 1 hr 5 mins | New Monument | 0 | 0 | 0 | 0 | 0 | few | 0 |
| 3.8 miles | 1 hr 13 mins | Kingfield | 0 | 0 | 0 | 0 | 0 | 0 | 0 |
| 3.8 miles | 1 hr 9 mins | The Raleigh | 0 | 0 | 0 | 0 | 0 | 0 | 0 |
There are roughly 29 children still to place. Many of the families left do not have cars. And once they are all accommodated, what then? How do you choose which school you prefer if they are all full to capacity? How do you join your siblings if their school is full?
Once again, we can't even vote with our feet.
New Housing
SCC estimate just 52 new houses will be required in Lovelace ward (containing Ripley Village) between 2017 and 2024.

2.5 miles to the north-east, Wisley Airfield will see over 2000 new houses built, starting 2019. These have not been counted, as The Primary School will be built in the first phase of development.

Of course it will. Just like the 800 affordable homes will all be built. If there's one thing we've learned about planning policy in England, it's that developers never renege on the deal.

With each phase of houses paying for the next, building a school too soon will be a cost to the developer they will avoid by any means. We guess it will arrive after 40% of the houses - for Wisley, that's 2028/29, 7 years after the first houses are built. And the first phase to be built will be closest to Ripley.

Just over a mile in the opposite direction, Garlick's Arch will see 400 houses built between 2020-24. Despite being situated exactly midway between Ripley and Send Schools, all 400 houses (an estimated 100 pupils) have been allocated to Send ward.

As no new school is planned, placing those pupils with the existing Send School will make it one of the largest primary schools in Surrey. As it is almost full already, this is unlikely to happen.

Finally, the general allowances covering the classifications for Windfall, Rural Exception, Within Villages, Inset Villages, Previously Developed Green Belt and Traveller Sites cover a total of 1727 homes in the Local Plan: that's 13% of the total.

A reasonable allocation for Lovelace Ward would be 7 per year. The SCC calculations for the five year planning period from 2019-2024 allow for just one per year. The discrepancy is because SCC have not allocated these developments to any particular ward. Because they could be built anywhere, they're not accounted for anywhere.

Here are SCCs estimates for new house building, alongside our own based on these assumptions:
No school built at Wisley Airfield until 2028, with development starting on schedule
50% of Garlick's Arch development schooled in Lovelace, with development starting on schedule
7 houses on average per year built elsewhere in Lovelace ward from 2019
Academic
Year
SCC housing
estimate
Our housing
estimate
Our primary
place estimate
2017-18
12
26
6
2018-19
13
27
6
2019-20
13
18
4
2020-21
9
35 (inc. Garlick's Arch)
8
2021-22
5
33 (inc. Garlick's Arch)
7
2022-23
0
132 (inc. GA and Wisley Airfield)
29
2023-24
0
182 (inc. GA and Wisley Airfield)
40
Total
52
453
101
Close the school, and you'll be building another one before long.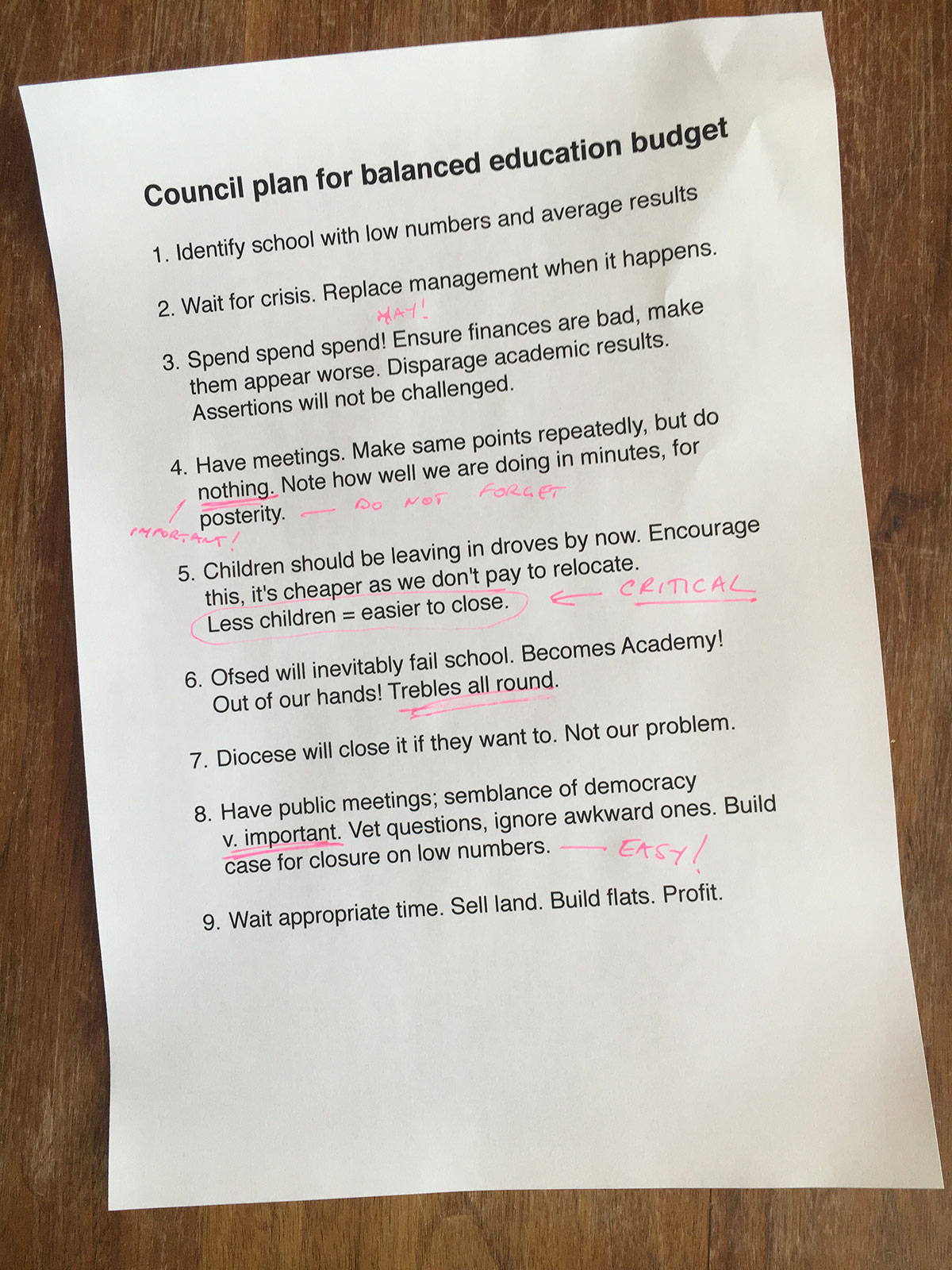 What can you do?
The final decision on closing the School rests with David Hodge, head of Surrey County Council. We've been told that if we can demonstrate that SCC has failed the school we have a chance of persuading him to keep it open.

The numbers are low, but with a reduced PAN of 15 and the mid-term future of the school assured, they will grow. Ripley expanded from an Infant school this way, and can do it again. However once it closes, it closes for good.

The Statutory Notice proposal period runs until Friday 22 June 2018. You have a chance to make your voice heard, so if you think they haven't done the right thing please email and tell them why:

schoolorg@surreycc.gov.uk

This will help. But it's not enough.

We have been through this process already. We have attended the statutory meetings, we have submitted our questions in written form in advance, we have bitten our tongues or been ejected from meetings and watched untruths go unquestioned as this process, started in 2015, grinds to it's inevitable conclusion.

We don't feel the rules of this game are fair, so we're trying something else.

So please publicise this site. Forward it on. Republish our graphs, reuse our content, you have our permission. Check our references, check our figures. We have. Tell other schools in other dioceses.

Don't let this happen again.